Free USPS Priority Shipping on Any Jewelry (Continental USA Only)
Kee Yazzie Jr.

NAVAJO SILVERSMITH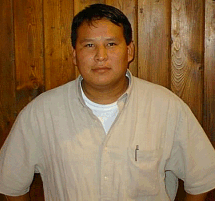 Just to the north of Ganado, Arizona, KEE YAZZIE'S home, lie spectacular canyons--some open to tourists like Canyon de Chelly, others hidden and inaccessible. Deep in the labyrinths, on cliff walls and in caves, are the etched drawings of Kee's ancestors.
Kee has translated these ancient petroglyphs into contemporary bracelets. His overlay work in sterling silver and gold recreates the stone-pecked pictures--transforming rock art to wearable art. With hundreds of small, precise cuts of a jewelry saw, his miniature reproductions of the petroglyphs give the illusion of a mosaic of metal.
Kee's background in architectural design has undoubtedly enhanced his natural gift for balance. He also mentions the creative influence of artists Ray Scott, Gibson Nez, and Norbert Peshlakai.
"When I returned from school in 1992, I had the desire to learn metalsmithing and, by luck, my friend Ray Scott, offered me a job.
Soon, Kee was creating his own designs. At his first show, Eight Northern Pueblo in 1995, Kee's thunder bracelet took second place.
Kee is now recognized as one of the most accomplished overlay craftsmen, sometimes incorporating one hundred symbols within a bracelet. Each intricately hand-cut piece becomes part of a seemingly never-ending mural in silver.
"Mostly, I try to create something that people will like to wear."
The symbols etched on rock faces deep in canyons on Navajoland have held meaning for hundreds of years. Today, you can carry with you the rock art of the ancients.