Free USPS Priority Shipping For All Jewelry Purchases ( USA Only)
Welcome to Tanner Chaney and Native Gold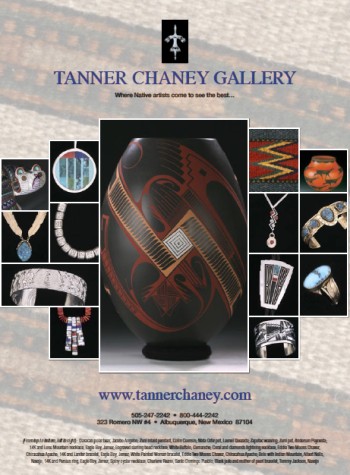 Setting the Standard for Quality in Indian Arts.
News
We are happy to introduce Kyle Yellowhair as a new artist to our gallery. He does very clean channel inlay work using quality natural stones and is a great new addition to our collection.
Subscribe to our Newsletter for 5% off everything in store!
---

This site uses SSL Encryption Technology to make sure that personal and credit card information cannot be viewed by any other Internet source. All information collected is for the sole purpose of communications with the customer. Tanner Chaney does not sell, lease or share any of the collected information.
Feel free to shop on-line at your leisure or visit our showroom at:
323 Romero NW, Suite 4
Albuquerque, NM 87104
(505) 247-2242
(800) 444-2242
Store Hours: Tue-Sat 10am-4:30pm (MST), Closed Sunday and Monday
If you have any questions or comments, please contact us.

---