Our Annual Holiday Sale of 20% off Everything. Free USPS Priority Shipping on Any Jewelry (Continental USA Only)
FRITSON TOLEDO

Navajo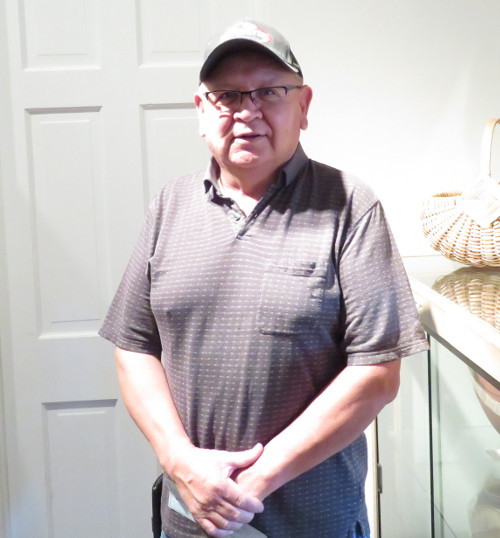 The way Fritson came into the world was in the back of a pick-up truck on the road in Zia Pueblo. It's not that he's an impatient guy. One look at his work and anyone can see he doesn't rush things. He's just mostly a happy guy and always eager to take on a task, no matter the challenge. He set challenges for himself early on, including learning silverwork. His father was a silversmith, though he was not really one to teach or even tolerate onlookers. But Fritson has staying power and when his father was done for the day, Fritson would pick up his father's tools and teach himself on pieces of scrap silver. Borrowing his father's tools didn't last long. Very soon, Fritson was making his own tools and his own stamps. Fritson also loved to draw and there was something about the marriage of the two—drawing and silverwork—that really spoke to him. His influence is not from other silversmiths or trends, but from the world around him, the patterns and shapes he sees in nature and the everyday. Something catches his eye, gets him thinking about a design, and he draws it, letting it flow from the paper to the silver.
Fritson's work defies categories. From heavy stampwork to elegant pieces, reposse to applique, Fritson can do anything. His hand-fabricated heavy silver pieces honor the Navajo work of a century ago. His fleur-di-lis is reminiscent of the best work of the 1970's. And then there are the elegant and graceful pieces that are beyond traditions.
Born in September, 1961, Fritson grew up in Torreon, New Mexico a farming community laid in a valley with the backdrop of the Jemez Mountains. By age 15 he was working seriously with silver. Though "serious" is not a word one would ever associate with this easy-going man, he does have a seemingly endless capacity to attend to what matters. And that always starts with the shape of the stone. Whether it's turquoise or topaz, petrified wood or bumblebee jasper, it's not the color of the stone that inspires him but the shape. As he sets pencil to paper he lets the stone talk to him and guide his hand. As he works the silver, bringing the drawing to life, he keeps an eye on making something unique, different from what he's done before. And special to the person who wears it. "I ask myself how would that person be happy with it? To have the piece enjoyed forever."
Fritson's other passion is working with cars, specifically those from the 1970's, and only Dodge or Plymouth. These are known as muscle cars. And at first it's puzzling that this master silversmith's other passion would be working on cars. Until one looks at what defines the muscle cars is high performance and affordability (as opposed to sophisticated supercars). And you have Fritson: high performance, humble, hardworking. He still makes his own tools and his own stamps. And now he is the father with two sons. And he shares his passions with him. They both have interests in cars, and one has an interest in silversmithing. One can hope for a legacy of Fritson Toledo to carry us all forward. For over thirty years now, Fritson has brought his own perspective on the world and its patterns to life. And for that unique vision and devotion to the unique and wonderful, we are so very grateful to Fritson and his friendship.