Our Annual Holiday Sale of 20% off Everything. Free USPS Priority Shipping on Any Jewelry (Continental USA Only)
Lonn Parker

NAVAJO SILVERSMITH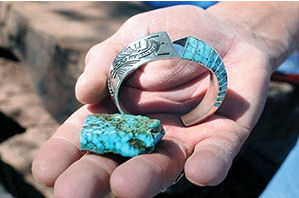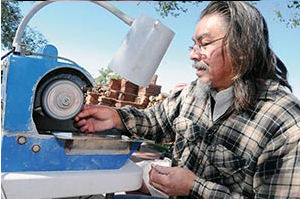 ABOVE: Lonn Parker, of Manuelito, N.M., displays a bracelet and turquoise stone at Hubbell Trading Post National Historic Site on in Ganado, Ariz. (Times photo - Leigh T. Jimmie)
BELOW: Lonn Parker, of Manuelito, N.M., buffs a stone before embedding it in an earring at Hubbell Trading Post National Historic Site on Oct. 8 in Ganado, Ariz. (Times photo - Leigh T. Jimmie)
Situated under an elm tree near the sandstone hogan are clues to a silversmith's presence.
On a wooden table are a grinder, buffer and other assorted tools that belong to Lonn Parker, award-winning silversmith and the first of his profession to be the artist-in-residence at Hubbell Trading Post National Historic Site.
The self-taught master uses one of the oldest methods of making jewelry, carving tufa stone and making sand casts into which he pours molten silver.
His work incorporates traditional stamping and utilizes the style of Hopi overlay and Zuni inlay.
Parker's pieces are contemporary in style, including a design that he calls "twist bracelets" because the design twists around the bracelet in a way that each side repeats itself in reverse.
"Silver becomes a part of you," he said. "It becomes like your best friend."
When trader J.L. Hubbell lived in Ganado, he entertained artists from across America.
During their visits they painted, wrote, composed and sculpted works that were inspired by the landscape and people of the Southwest.
The artist-in-residence program recreates that idea by inviting participants to live and work on the park grounds.
In return, the artist is asked to donate to the park an original piece of work to commemorate his or her time there.
Parker started his residency Oct. 3 and will be there until Oct. 16.
"In that short period of time, I've met so many people from all over the world," he said in an interview Oct. 8. "The good thing about it is the opportunity, they invited me to come stay with them."
So far he has met people from Canada, Finland, Germany, Japan, New Zealand and Russia, he said.
Parker learned of Hubbell's artist-in-residence program when he visited the park during a fishing trip this summer. He has lived all over the region, spending time in Denver, Manuelito, N.M., and in Utah.
Throughout the years, Parker has won many awards for his work, and was commissioned to make a belt buckle and bolo tie set for President George W. Bush.
"It was an honor to do it," Parker said.
Parker was introduced to the craft at 11, when he started buffing silver at the Gallup Indian Trading Co.
He would watch the company's silversmiths at work and as they worked, Parker would watch small pieces of silver scrap fall to the floor.
Parker, 53, is Navajo and Dághá Lichíí' - Irish. He was born in Denver and went to school in Utah where he lived with a Mormon family.
After high school he enlisted in the Marines but throughout the years, he would return to his family's land in Manuelito.
Parker went into the sandstone hogan where he was staying at Hubbell, and retrieved a large piece of tufa, a porous rock formed as a deposit from springs and streams.
He sawed the stone to demonstrate how it can be worked. To create a piece of jewelry, the artist carves a mold within a chunk of stone, creating the design in reverse.
By Noel Lyn Smith
Navajo Times