Free USPS Priority Shipping on Any Jewelry (Continental USA Only)
NAVEEK

NAVAJO SILVERSMITH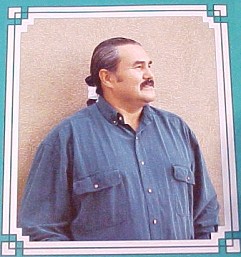 NAVEEK…named Artist of the Year 1993, by the Indian Arts and Crafts Association, is an extraordinary master jeweler by any standard. He uses his professional name Naveek to honor his Navajo and Greek heritage.
Naveek was born at Fort Defiance, Arizona, and raised in the area west of Standing Rock on the Navajo Reservation and in the community of Gallup, New Mexico. His grandfather, Tom A. Lewis, a Navajo medicine man and traditional silversmith, greatly influenced Naveek's interest in art and taught Naveek his essential skills. While this exposure to his Navajo culture has certainly been a major influence, Naveek also credits his Greek ancestry for much of his creativity.
In Naveek's superb jewelry there is a strong sense of harmony and balance between traditional and contemporary concepts. He constantly searches for new approaches and unique styles, while at the same time giving strict attention to minute details and the flawless finish of each piece.
An example is the way his bracelets conform to the wrist. He describes the shape as a "comfort curve," and points out that they are designed to fit in such a way that there is no restriction of the movements of the hand or wrist.
His complex channel inlay style has evolved over twenty-five years into award-winning designs sought by collectors worldwide and featured in galleries throughout the country. And his respect for the culture of the Old Ways and his intrinsic love of nature are translated into subtle yet striking elegance by the use of silver or gold, precious and semi-precious gemstones, and his notable intricate star-burst design.
One of the singular features of a Naveek bracelet is the stampwork on the inside, which may be either traditional in design or representative of the mountain wild flowers. Often asked about the significance, the answer can be found in Navajo belief. "An individual's outer beauty is immediately apparent and easily taken for granted. Only if you take the time to learn about the person can you discover and appreciate the internal beauty that lies within, that sets each person apart and makes each of us special." So it is with each piece, the internal design adds to the uniqueness and beauty of the art.