Our Annual Holiday Sale of 20% off Everything. Free USPS Priority Shipping on Any Jewelry (Continental USA Only)
Wayne Muskett

NAVAJO SILVERSMITH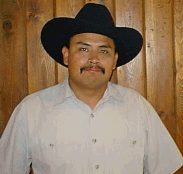 WAYNE MUSKETT was born in Gallup, NM, a Navajo Reservation border town of trading posts and tourists--a mosaic of different peoples and cultures. Wayne's jewelry echoes his colorful hometown. He creates inlay bracelets set with the bright stones of earth: green malachite, blood-red coral, deep blue lapis and the dusty blue of denim lapis, and, of course, high grade turquoise.
Wayne doesn't restrict his work to only sterling silver. He also creates stunning gold jewelry with the same expert eye to color. "I really enjoy working with gold. There's a different vibrancy in the colors."
Wayne comes from a family of craftsmen. His father creates more traditional pieces, while his brother also makes inlay jewelry. His father's influence is apparent in Wayne's pendants--bear pendants, their rounded backs like the sacred fetishes honoring the most powerful and wise creature. Wayne sometimes inlays these pendants on both sides, a pleasant surprise to the unsuspecting.
Wayne's pieces promise to continue delivering unexpected delight to those who appreciate quality craftsmanship.