Our Annual Holiday Sale of 20% off Everything. Free USPS Priority Shipping on Any Jewelry (Continental USA Only)
Calvin Martinez

NAVAJO SILVERSMITH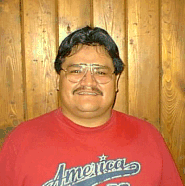 CALVIN MARTINEZ creates his jewelry in the pure, traditional style of the first Navajo silversmiths. His uncomplicated, substantial pieces, featuring the best gem-grade turquoise, speak eloquently of the very nature of the Navajo: unassuming people with strong convictions about their place within the balance of nature.
Calvin brings this attitude of quiet strength to each of his creations. With only heavy-gauge silver, skillful hands, and an eye for balance, he infuses each piece with the power of simplicity. His hand-cut bezels frame extraordinary turquoise stones.
A self-taught silversmith, Calvin draws his creative inspiration from his Navajo heritage. "I look to the old silversmiths and to my culture. There would not be a Calvin Martinez silversmith without the Navajo tradition to guide me.
"I am grateful that people still like the old silver pieces. I thank God for awarding me with these gifted hands."