Free USPS Priority Shipping on Any Jewelry (Continental USA Only)
Michelle Jameson

NAVAJO SILVERSMITH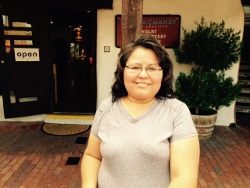 Michelle Jameson was born in Gallup, New Mexico, a Navajo Reservation border town, straddling canyons and Route 66, traditional Navajo culture and the edge of the wild west. It's a place of life lessons.
Michelle's own story resonates with those lessons and finding balance. She was born in 1971 into a family of silversmiths, some very well known (Mary Marie Lincoln, Lee and Raymond Yazzie). But Michelle's own path was anything but certain. She had to drop out of elementary school from third to fifth grade. Just a child herself, for those two years she had to take care of her siblings and her cousins, while also homeschooling herself for those years. "Hands never tied," she said. It was her grandmother's saying, meaning her hands were always busy, as they should be. She is so exuberant, happy and positive, one has to figure it has always been in her nature to find purpose and pleasure in whatever she does.
What she does with jewelry is also a balance of the traditional and contemporary. A hallmark of her designs is her sterling bead necklaces, graduated and polished to a satin finish. Whether oxidized or shiny, her beads are a testament to the best of Navajo "pearls." She learned from her Grandmother Elsie Yazzie and her aunts, Shirley Johnson, Lola Daw, and Mary Marie Lincoln (Marie Yazzie). They got her started, taught her how to dome and file, solder and string and buff. But it's Michelle's shining spirit that gives life to the necklaces.
She says she finds her spirit renewed by devotion to her Navajo culture and family. "Never forget your elders," she said. "They suffered more, had to fight for their lives, even their language." Her eyes light with passion and resolve. "They teach us to stand up for ourselves." We know of many times Michelle has taken a stand for what she believes, no matter the cost to herself. And anyone can see the power of her character in her jewelry—clean, honest, beautiful beads. "I am inspired by the joy a necklace can bring to someone." We are inspired by her.