Our Annual Holiday Sale of 20% off Everything. Free USPS Priority Shipping on Any Jewelry (Continental USA Only)
Vernon Haskie

NAVAJO SILVERSMITH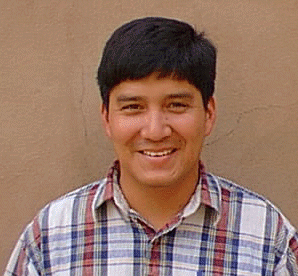 VERNON HASKIE is an accomplished Navajo artist from Lukachukai, Arizona. Vernon is a self-taught artist who works along side his father Leonard Haskie who is also a successful artist. Vernon produced his first pendant at the age of nine.
Vernon specializes in multi-layer and three-dimensional designs using an applique method. He sets precious stones, including turquoise, coral, diamonds, and opals in his many exquisite pieces. Vernon has produced many award-winning silver and gold works of art, including jewelry boxes, rings, bracelets, concho belts, buckles, bolo ties, necklaces, earrings, tie tacks, and squash blossoms.
Inspired by the natural beauty of Navajo land, Vernon mimics the realism of nature and the universe in his many "Hozhooji" pieces. "The red mesa sunsets and the Chuska Mountains and the cliffs are reflected in my work." Artists who have influenced Vernon are Harvey Begay and the late Charles Loloma.
Prior to his current specialty of jewelry and three-dimensional jewelry boxes, Vernon experimented with acrylic painting, basketry, pottery, and moccasin making. He plans to venture into traditional bow making by using traditional techniques. Eventually, Vernon would like to create pieces that "challenge and educate" his collectors.
Vernon's work have appeared in the 1996 "Gallup Independent", the 1995 Gallup Intertribal Ceremonial Magazine, Intertribal America, and in books published by Lois and Jerry Jacka in 1994, "Enduring Traditions, Art of the Navajo" and 1995, "Navajo Jewelry."
Vernon's" works have also won the following awards:
1996
Best in Class Navajo Nation Fair Best in Category Gallup Intertribal Ceremonial 1st Place Gallup Intertribal Ceremonial 1st Place Navajo Nation Fair 2nd Place Mesa Verde Show 2nd Place Gallup Intertribal Ceremonial 2nd Place Navajo Nation Fair
1995
1st Place Gallup Intertribal Ceremonial 2nd Place Gallup Intertribal Ceremonial 3rd Place Gallup Intertribal Ceremonial 3rd Place Museum of Northern Arizona Show
1994
Best in Class Navajo Nation Fair 1st Place Navajo Nation Fair 1st Place Gallup Intertribal Ceremonial 3rd Place Gallup Intertribal Ceremonial
1993
1st Place Navajo Nation Fair 1st Place Gallup Intertribal Ceremonial 2nd Place Navajo Nation Fair
1992
1st Place Navajo Nation Fair 1st Place Gallup Intertribal Ceremonial 2nd Place Gallup Intertribal Ceremonial 3rd Place Navajo Nation Fair
1991
1st Place Navajo Nation Fair 1st Place Navajo Nation Fair