Free USPS Priority Shipping on Any Jewelry (Continental USA Only)
Juan Cate

SILVERSMITH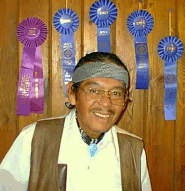 THE SPIRIT of the Anasazis' great skill with turquoise is alive in Juan Cate of Santo Domingo Pueblo. His necklaces of turquoise or shell are reminiscent of the precious strands made by his ancestors. An Anasazi would also recognize one of Juan's techniques: hand-grinding the fragile materials into small disks for stringing.
Where Juan transcends the work of his ancestors and many of his contemporaries --is within the impossible smoothness and perfect arc he accomplishes with each necklace. Close your eyes and run the hand-cut stones through your fingers: it could be a slim, supple reed -- pliant and graceful.
Though self-taught, his father also inspired Juan, Joe Martin Cate who instilled within Juan his great respect for the craft he inherited from his ancestors. "I will not trade out inheritance of our precious turquoise for any foreign or man-made material. We came from a strong, rich and old culture."
Juan considers each piece meaningful and special. "My prayers go into my work. I'll visualize a unique piece of art. I'll honor the vision and commit myself to that piece of art until it's finished. When someone cherishes it and purchases it for their own -- that I'm proud of."
Juan's work has gained recognition within the industry, winning awards at many of the most prestigious competition, including the Santa Fe Indian Market, where Juan's necklaces have earned First, Second, and Third place ribbons. He regularly wins First at other shows: Miami Valley of Ohio in Dayton, Indian Arts Festival Market in Dallas, Texas, and Addison Texas.
"I juried shows, however, I like to compete against the best. If I don't place, I make an effort to do better in the next show."
Juan's time to create the next piece is also precious, as he is also engaged in five non-profit organizations. He is active as a member of the Sano Domingo Housing Authority, and the Santo Domingo Scholarship Committee. He is also chairperson for the Indian Education, as a member of SWAIA Council of Arts, and Vice President of the Santo Domingo Indian Veterans Association. "As a war veteran of Viet Nam, I will not trade my country for any other country."
Juan has a strong opinion about our roles within our communities. "I hope and pray that other members of Santo Domingo will realize that out culture is in jeopardy, if we don't continue with the legacy of our ancestors."
With Juan Cate at work shaping the sacred stone of the ancients, the heritage of his ancestors is in good hands.