Free USPS Shipping on All Jewelry Sales (USA Only)
39 Found. Showing page 4 of 4 pages.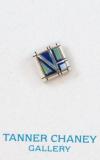 Unknown artist created this circa 1990's sterling silver and multi-color mosaic inlay tie tack. The tie tack is 1/2" in height by 3/8" wide and features natural turquoise, gaspeite and opal mosaic inlay.
Item Number: 53804 ... Price: $95.00

Award winning Navajo/Apache artist Gibson Nez (deceased) created this hand-stamped and repousse bolo. This is an excellent example of Gibson's classic silver work style using a piece of natural Bisbee turquoise from Arizona. The bolo is 3 3/8" in height by 2 3/4" wide and has a 6-ply black hand-made flat-back strap and hand made tips.
Item Number: 53778 ... Price: $1,995.00

Award winning Cochiti/Zuni Pueblo artist Christine Eustace created this sterling silver and 14kt gold granulated pin. The pin is 1 3/8 in diameter.
Item Number: 49799 ... Price: $395.00