26 Found. Showing page 3 of 3 pages.

Award-winning Jemez Pueblo artist Joe Cajero Jr. created this one of a kind polychrome kiva pot Joe named "Someone Forgot Their Rattle!" The pot is 10" diameter by 18" in height (including the ladder emerging from the kiva. The figures include deer, fish, bear, and bird. In 2014, Joe was named a Living Treasure at the Native Treasures Show of the Museum of Indian Arts and Culture in Santa Fe.
Item Number: 21334 ... Price: $1,375.00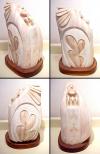 Award-winning Jemez Pueblo artist Victor Vigil created this alabaster "Prayer" sculpture. The sculpture is 17" in height by 8" wide by 9" in depth.
Item Number: 31783 ... Price: $1,395.00