Announcing our annual Indian Market Sale. Everything is 20% off with free USPS Priority shipping (USA Only).


1
|
2

14 Found. Showing page 2 of 2 pages.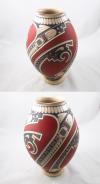 Mata Ortiz potter Lazaro Ozuna Silveira created this large geometric polychrome carved pot. The pot is 10 1/2" in height by 7 1/2" in diameter.
Item Number: J6709 ... List Price: $695.00 Your Price: $556.00

Mata Ortiz Potter Rodrigo Perez created this polychrome geometric design pot. The pot is 10" in height by 6" in diameter.
Item Number: J700 ... List Price: $875.00 Your Price: $700.00


1
|
2